The ezyAXS kitchen exhaust canopy
Winner 2018 Worksafe Invention of the Year
ezyAXS is a world-first exhaust canopy that makes commercial kitchens safer and more efficient.
For years, chefs and kitchen hands have had to risk injury climbing onto (often piping hot) cooking equipment to clean or change filters at the end of a long shift.
But with ezyAXS, the filters come down to the user at the push of a button.
Recently nominated winner for the 2018 WorkSafe Health & Safety Invention of the Year
Electronically-operated, drop-down plenum makes access easier and safer
Up to 50% less extraction meaning lower running costs and less energy wastage
UL listed baffle-filters reduce the risk of ductwork fires
Especially designed to be affordable for all markets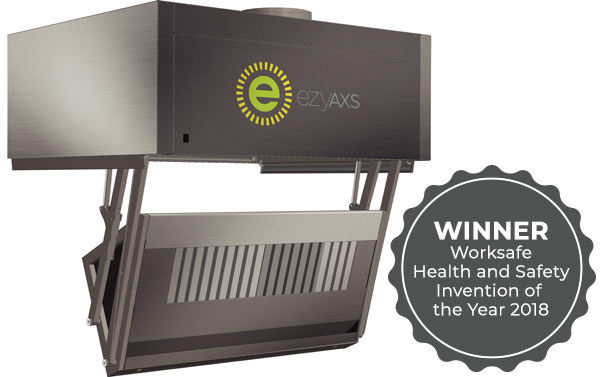 *From only $6250 + GST complete with canopy
*price varies according to size of canopy and features required
Why buy through ecocanopy?
30+ Years Experience
ecocanopy is owned by ecogroup Australia who bring 30 years' experience in commercial kitchen design, manufacture and installation.
Healthier
All canopies come with the option to include ecoshield™ UV technology, which reduces the risk of health issues and airborne viruses caused by smoke, fats, mildew and bacteria.
Worldwide Reputation
ecoshield™ is Swedish by design, sold in 20 countries and used by major commercial kitchens around the world from McDonalds and KFC to Optus Stadium and Crown Casino.
A safe kitchen leads to a more productive restaurant.
Talk to one of our team members today about the new ezyAXS canopy.
Fill out your details below and we'll be in touch shortly.
Copyright © 2018 ecocanopy